29.09.2017
This week, there comes a parting of the ways for us and the vessel Baldvin NC, previously called Baldvin Ţorsteinsson EA, when it is handed over to its new owners. This occasion marks the end of its 25 years of success with the Baldvin name.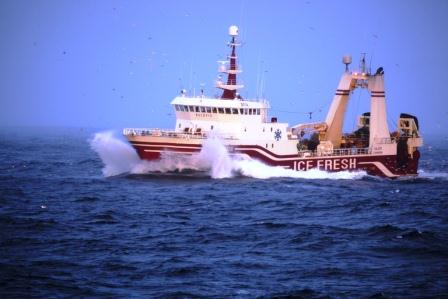 Photo: Thorgeir Baldursson
The freezer trawler Baldvin Ţorsteinsson EA came to Iceland 25 years ago on  November 20th 1992, and was Samherji's first new built vessel. It was built in Flekkefjord in Norway, a 1,500 tonne ship and 66 metres long. The first captain to take command was Ţorsteinn Vilhelmsson and other captains during the 10 years that the ship was part of the Samherji fleet were Arngrímur Brynjólfsson, Guđmundur Jónsson and Hákon Ţröstur Guđmundsson.
Baldvin Ţorsteinsson EA was a very successful vessel and its crew broke various catch records. In 1999, for example, Baldvin EA was the first Icelandic ship to push the catch value up to one thousand million ISK.
In 2001 the vessel was sold to Deutsche Fischfang Union (DFFU), Samherji's subsidiary in Germany and was handed over in May 2002. The ship was named Baldvin NC and has been operated by DFFU for over 15 years. The captains of Baldvin NC in recent years were Sigurđur Kristjánsson and Sigurđur Hörđur Kristjánsson.
The last tasks Baldvin NC undertook for DFFU were two successful trips fishing Greenland halibut off the shores of East Greenland.
The ship has now been sold to Poland and will be renamed Polonus.
Good fortune has been attached to the name. 
"The departure of Baldvin NC is a milestone in......
Read more