29.08.2017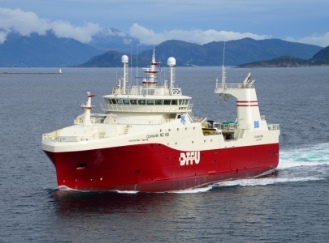 Cuxhaven NC 100 the new ship of Deutsche Fischfang Union GmbH, a subsidiary of Samherji in Germany, has left for her first fishing trip. Cuxhaven NC 100, designed by Rolls Royce, is 81,22m long and 16m wide, built in the Mykleburst shipyard in Norway. Cuxhaven is the first new construction for Deutsche Fischfang Union in 21 years, the previous ship having had the same name, Cuxhaven. The ship's captains are Stefán Viðar Þórisson and Hannes Kristjánsson.
 The owners of Samherji along with Haraldur Grétarsson, the Managing Director of Deutsche Fischfang Union and Óskar Ævarsson, the head of fishing, formally received the ship in Ålesund, Norway August 15th. Then, on August 20th after fishing equipment was loaded on board and the ship prepared in every other respect, Cuxhaven sailed to fish in the Barents Sea.
Cuxhaven is equipped with state of the art machinery and excellent facilities for the crew, which might include up to 35 people.  Fitted with the latest technology, the ship is much more efficient and environmentally friendly than older ships. The factory deck was built by Slippurinn shipyard in Akureyri and includes equipment built by the company Vélfag in Ólafsfjörður.
"This is a very big event in the operations of DFFU here in Germany. The ship is magnificent. Working conditions and facilities for the crew in general, have been significantly improved. It is a huge challenge to get everything to work in such a technically complex ship and the next few weeks will be very exciting for us," said Haraldur Grétarsson, the Managing Director of Deutsche Fischfang Union.