Operating in a system of resource management where the aim is sustainable fishing, Samherji, founded in 1983, is a leading seafood company in Iceland.  Outside Iceland, Samherji has or takes part in operations in Germany, Poland, U.K., the Faroe Islands, Africa, Canada, France, Spain and Portugal.

Samherji is a vertically integrated seafood company, controlling a significant volume of fishing quota, operating a powerful fleet of fishing vessels; freezer and fresh fish trawlers, as well as multi purpose vessels, white fish factories and fish farming.  Samherji also runs extensive sales and marketing operations which are coordinated at the company´s head office. 
The strategy of Samherji hf. is:
To be in a leading position in fishing, processing and marketing seafood and thus to be in control of as large a portion as possible of the company's value-added chain.

To run a strong company which earns a profit for its owners and provides its employees with an interesting working environment.
Samherji's success is primarily based on the fact that as a food producer the company itself takes care of the entire process from the catch to the market. Samherji hf. employs qualified and enterprising personnel and management, has a powerful fleet, large fishing quotas and highly advanced onshore plants. Equipped in this manner, the company aims at a continuing leading position in the fishing industry, both in Iceland and at international level. Samherji´s policies on the Environment and Quality are here.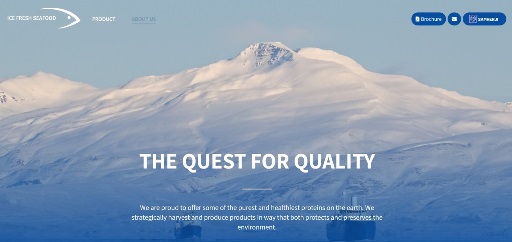 Sales web icefresh.is
Promotion videos:
THE QUEST FOR QUALITY - Passion for fish products
THE QUEST FOR QUALITY - From Catch to table 
THE QUEST FOR QUALITY – High tech fish processing